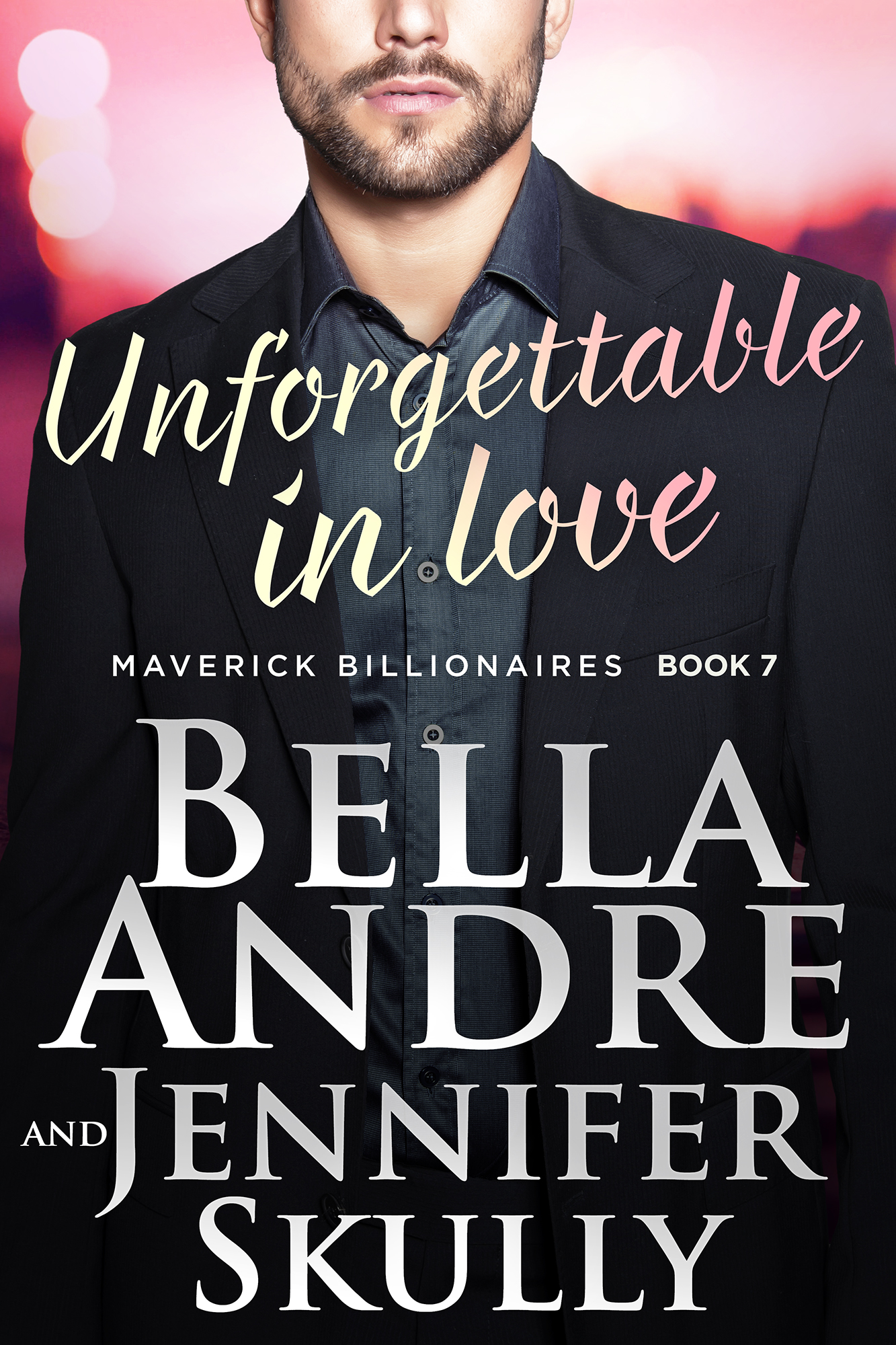 Kindle
Kindle UK
Kindle AU
Kindle CA
Apple Books
Apple Books UK
Apple Books AU
Apple Books CA
Google Play
Nook
Kobo
Unforgettable In Love
The Maverick Billionaires, Book 7
By Bella Andre and Jennifer Skully
Meet the Maverick Billionaires: Sexy, gorgeous, self-made men, and they're taking on the world. An exciting and emotional contemporary romance series from New York Times and USA Today bestselling authors Bella Andre and Jennifer Skully!
Lyssa Spencer is the apple of the Mavericks' eyes, the little sister they adore and vowed always to protect. But Lyssa isn't a little girl anymore. More than anything, she wishes they could see she's a grown woman and perfectly able to take care of herself. Her new boss, Cal Danniger, certainly appreciates and respects her abilities. And she appreciates Cal...in every way possible. Yet she can't imagine he'd ever consider dating her, not when her brothers would rip him limb from limb if he so much as looked at her the wrong way. But boy, does she ever want him to look at her exactly that wrong way.

The Mavericks are Cal Danniger's best friends, as well as his business partners. So when they ask him to watch over Lyssa by giving her a job in the San Francisco Bay Area, of course he agrees. While she impresses him with how smart, dependable, hard-working, and dedicated she is, he's not at all prepared for the powerful, sizzling attraction that takes everything in him to fight. He needs to keep his hands off her no matter what, even as he dreams of all her sweet spots he desperately wants to touch.

After one passionate and unforgettable night in London that neither can resist, Cal vows never to let it happen again…if only he could stop thinking about Lyssa, or wanting so much more.

Between a secret Lyssa is keeping from him and the Maverick Billionaires hellbent on protecting her at all costs, do they have any chance of finding a future together?
Read an excerpt of Unforgettable in Love on Jennifer & Jasmine's Blog


More in the series…
Breathless in Love (Will & Harper)
Reckless in Love (Sebastian & Charlie)
Fearless in Love (Matt & Ari)
Irresistible in Love (Evan & Paige)
Wild in Love (Daniel & Tasha)
Captivating in Love (Gideon & Rosie)
Unforgettable in Love (Lyssa & Cal)
AUTHOR BIOGRAPHIES:
NY Times and USA Today bestselling Jennifer Skully/Jasmine Haynes is the author of classy romance, hilarious romantic mysteries, and the Max Starr paranormal suspense series. Her books have passion, heart, humor, and happy endings. Jennifer lives in the Redwoods of Northern California with her husband and their adorable nuisance of a cat, who obviously runs the household.
Bella Andre's New York Times and USA Today bestselling novels have been #1 bestsellers around the world, with more than 4 million copies sold so far. Known for "sensual, empowered stories enveloped in heady romance" (Publishers Weekly), her books have been Cosmopolitan Magazine "Red Hot Reads" twice and have been translated into ten languages. Bella also writes bestselling sweet contemporary romances under the pen name Lucy Kevin.